Webmaster Tools
All tools and resources on this page are provided "AS IS" and I offer no support. Each site has its own unique support systems and FAQ.
To see a detailed video tutorial on how to use these tools, click the play button on the video below.

Some of my favorite SEO tools are those that are still "Old School", like Webmaster Tools 3.0, and a few of the Search Engine Submission Sites you'll find below. To download the .ZIP file to "Webmaster Tools 3.0" click on the image below. To download the text file list of Search Engine Submission Sites click here: ==>> SEARCH ENGINE SUBMISSION SITES then save the text file where you can find it.

The text file is in ASCII .TXT format which you can open up in any text editor or word processor.

The Webmaster Tools 3.0 zip file is in .ZIP format, which you can download and save to your computer and unzip it into a folder of your choice.

Both files have been scanned and are free of viruses and malware. They are both clean.

The Webmaster Tools 3.0 zip file is compatible with just about all operating systems as it runs as an .EXE file when installed. Webmaster Tools 3.0 is the last upgrade from Version 2.0 that was compiled by Sawpit.net, an online tools company. Some of their online .CGI scripts still work, but if you're not an experienced HTML and Java/CGI script programmer, you might find it a bit challenging, to say the least.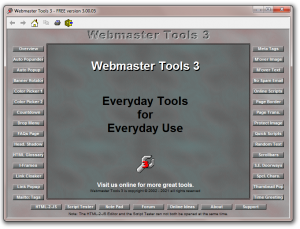 ---

Active Search Results (ASR) is an independent Internet Search Engine using a proprietary page ranking technology with Millions of popular Web sites indexed. ASR has its own spiders visiting Web sites daily that are submitted to ASR and crawlers that index other popular Web sites on the Internet. Active Search Results does not depend on nor utilize any other search engines or directories for its search results. All search results are contained within Active Search Results' indices and databases.
---
ExactSeek.com is an internet search engine and directory that receives and indexes over 30,000 new site submissions daily. To date, more than 500 million webpages have been indexed and added to the ExactSeek database. In addition to standard web search results, ExactSeek also offers image, video, blog, news and realtime search.
---
Entireweb has free and paid offerings on their site. Entireweb's goal is to be a leading supplier of search technology solutions. The international Web search engine www.entireweb.com is not only a highly popular general purpose search engine used by millions of people around the world — it is also a showcase of our search technology and our expertise in the field of ultra-high-performance information retrieval from huge unstructured data sources.
Entireweb currently handles millions of searches every month, and is a trusted partner of internationally acclaimed search engines such as Exactseek and IxQuick, who rely on Entireweb to provide world-class search results.
---
Features & Benefits
Quick & Easy
With just a few clicks, you can submit to the leading search engines online.
It's Free!
This service is 100% free of charge and you can use it as often as you want!
Backlinks
Your site will be listed at SubmitStart.com, resulting in a backlink to you.
---

Create Free Customized Meta Tags
Meta Tags are hidden HTML tags used in the HEAD section of your web pages to provide information about your website or web page to search engines. Most major search engines index Meta Tags for use in their search results. A definition of each Meta Tag and what to enter into the Free Meta Tag Generator will be on their website by clicking the image above.
---