One of my favorite classic movies is "Citizen Kane"
It starred Orson Welles.
And, was about the life and legacy of a powerful newspaper publisher, based partly on the late William Randolph Hearst.
The movie starts with Charles Foster Kane dying, with his last word being "Rosebud"…
…and the entire movie is this sort of question of what "Rosebud" is.
Turns out it was simply the trade name of a cheap little sled on which Kane was playing on the day he was taken away from his home and his mother as a child.
Welles revealed in an interview:
"In his subconscious it represented the simplicity, the comfort, above all the lack of responsibility in his home, and also it stood for his mother's love which Kane never lost."
The point?
We all have our "rosebud".
That thing… that moment… whatever it is that drives, guides, and inspires you.
Like, for example, the late Johnny Carson and the book of magic tricks he got as a kid.
Or, as another example, the late Fred Rogers when he got his first puppets as a child.
And several years back, I was reminded of my own Rosebud while talking to my dad about some stuff I left in his attic over the years.
Specifically:
My extensive collection of books that he and my grandfather had left me.
They were collector's items: they were over a hundred years old when they were given to me.
I spent my teen years curating it and hundreds of hours reading through them, while rudely ignoring everyone
around me.
And they now represent a part of my innocent childhood…
A time before I had any responsibilities…
Or real problems…
Or, cares about what went on in the world.
(This was around 1963…)
But, they're more than that:
I can also trace my entire direct marketing career to those hours of mindlessly reading through the same stories…
…over and over — admiring the writing, artwork, storylines, and creativity that went into them.
They shaped my mind…
They molded the inborn creativity that lay dormant in my psyche…
And, even today, I catch myself "swiping" ideas from those books I read 50+ years ago… in my emails today.
Snippets I have no conscious memory of.
But, that are STILL floating around in my subconscious — ready to be used at a moment's notice.
Those books are still an inspiration to this day…
My "rosebud" if you will.
When I wheez out my last breath I'll probably even say something like…
"Make mine Aesop's Fables…"
…or something akin to that.
All of which brings me to the point:
Ask yourself what YOUR rosebud is.
Think long and hard about it.
Then crawl back to that time in your mind when it was in your life, tap into those memories and emotions…
…relive them, and try to figure out what it was about that object and time that shaped who you are today.
Chances are it will inspire you.
Give you focus.
And, a whole new outlook on your business.
Even better:
It will make great "fodder" to talk about in emails, videos, content…
…and maybe a few conversations with friends and family.
Kind of like this article is…
If you haven't checked out this podcast that goes deep into the world of email, marketing, selling…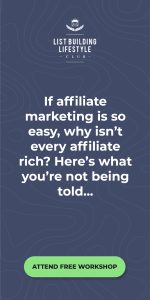 …see the link below.
It's free to register, it's deep info, and I defy you to listen in and not walk away from at least one idea, thought, or tip you can use to make more sales.
Here's the link:
Ernest