REVIEW: Tik Tok Master Class
It's Time to Embrace Tik Tok Marketing
Internet Marketers have been too reliant on Facebook and Google Advertising for WAY too long… and for good reason. The targeting, audience customization, and price made it the #1 place to market your business.
But not anymore. Back in June, Apple rolled out iOS 14. Now, Facebook Ads is a fraction of what it once was. Facebook's and Google's market share is not what it used to be.
The less learned here is: Don't leave all your eggs in one basket.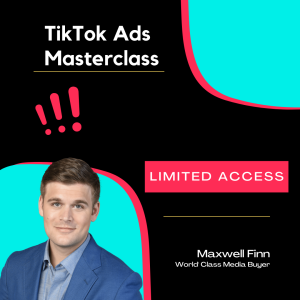 THE TIKTOK INSIDERS COMMUNITY
Maxwell Finn has been all-in on TikTok for quite some time now, so much so that he's almost off of Facebook entirely.
After seeing the kind of engagement and results that TikTok was offering, I asked Max if he had any trainings or courses available for my team and I, and he referred me to his new community – TikTok Insiders.
The Insiders Community has been my ultimate resource for all things TikTok. From getting my niche-specific ad questions answered to finding new employees and client opportunities in the Insiders Job Board – The Insiders Community has helped make TikTok advertising simple.
Click here to learn more about how powerful TikTok Advertising can be.
3 Common Misconceptions About TikTok Marketing
COMMON TIKTOK ADVERTISING MYTHS DEBUNKED
MYTH #1 – TikTok Users Are Too Young For My Brand
This is the primary reason many brands won't even consider advertising on TikTok. TikTok is assumed to be used exclusively by teens and young adults. This is simply not the case. In fact, if your brand's target audience is anywhere between the ages of 13 and 60, your audience is on TikTok. I know: I'm not the only "Old Geezer" on Tik Tok; there are millions of us!
MYTH #2 – Tik Tok Content Is Too Short To Make An Impact
TikTok videos are short, typically between 15 to 60 seconds long: they're snappy, funny, and they get A LOT of attention. If a user isn't hooked immediately, they can instantly swipe to a new video. Despite the very short-form content, users spend an average of 89 minutes on TikTok per day. This timeframe increases the likelihood of your content being seen by your target audience.
MYTH #3 – TikTok Content Receives Low Engagement
TikTok measures engagement differently than other social media platforms. They do take into account comments, likes, follows, and shares, but they also factor in viewing times and replays. If you can make a TikTok ad worthy of attention and get it in front of the right audience, you'll be successful.
So, you know now that your ideal customer is on TikTok – waiting to be reached out to… Now what?
It's time to meet your coach…
Max Finn, started an amazing community of TikTok advertisers, content creators, and media buyers called TikTok Insiders.
TikTok Insiders is the perfect place to network, learn, and surround yourself with other hungry entrepreneurs – who aren't afraid to ride the early adopter wave.
Click here to see exactly what you'll receive when you sign up to become an Insider.
Facebook Comments